Intro
On 14 Sept. 2021, Canon announced the brand new Canon EOS R3 mirrorless camera alongside the Canon RF 16mm f/2.8 STM lens, the RF 100-400mm f/5.6-8 IS USM lens, and other accessories built for their RF-mount system. Distinctly different from the previous EOS R5 / EOS R6 and even the EOS-1D X III in both build and specs, Canon is promising the R3 to be the future of action photography, focusing on motorsports, sports, and any other type of photography which requires fast and accurate AF speeds. Read on to find out more.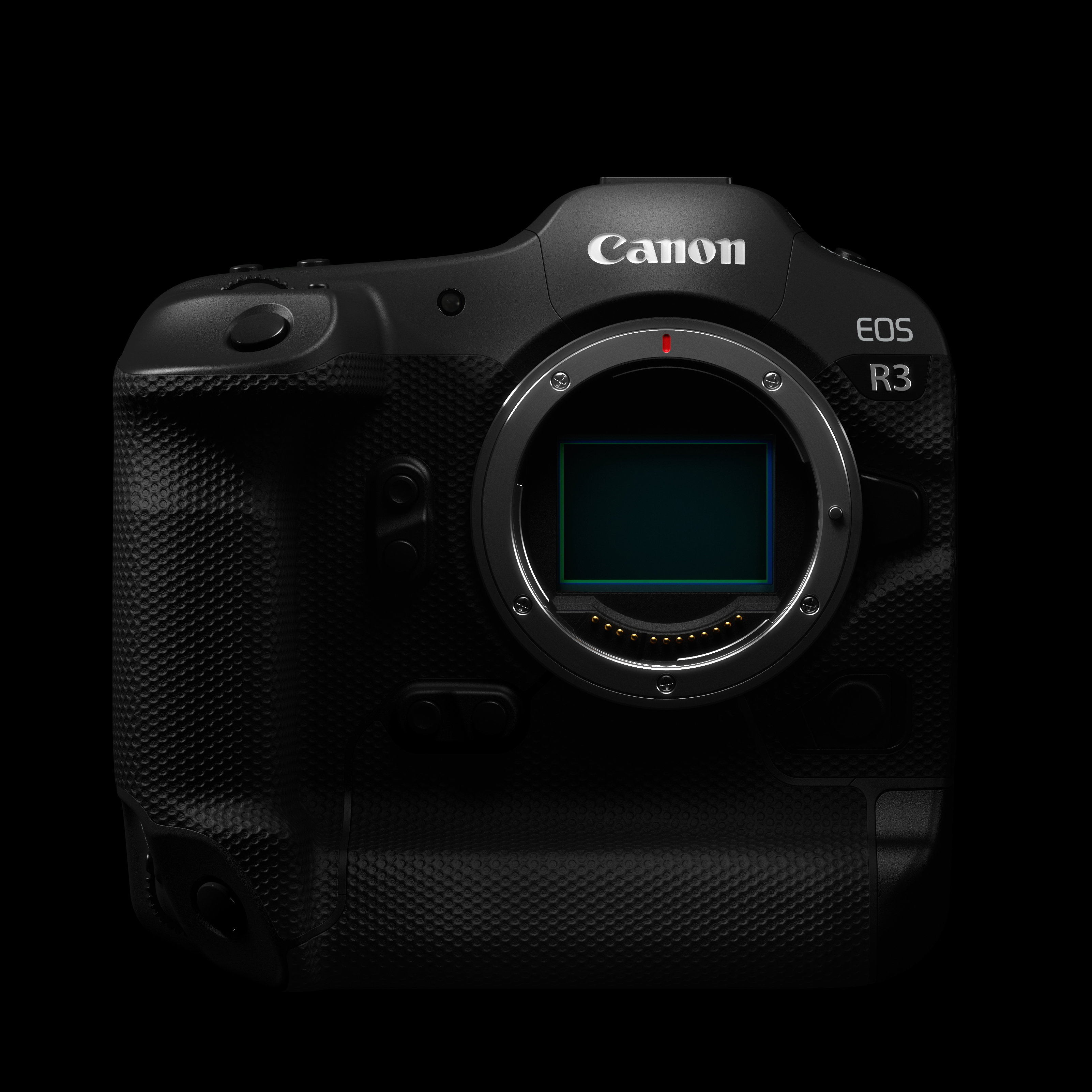 Image from Canon
Key features at a glance
24MP Full-Frame Stacked Back-Illuminated CMOS sensor
Shoots up to 30fps with electronic shutter
Records up to 6K/60p RAW and 4K/120p 4:2:2 10-bit internally
Ability to continuously record video beyond 30 minutes
Eye Control AF tracks eye movement to set focus rapidly
Integrated grip with vertical control option
5-axis in-body image stabilisation (IBIS) (up to 8-stops IS with select RF lenses)
New 'multi-function' hotshoe mount allows for data and power transmission without wires
CFexpress Type B and UHS-II SD card slots
HDMI Type D / micro HDMI port
What's new?
Brand New Stacked Back-Illuminated sensor built in-house in Canon
Arguably the most critical of updates, the R3 comes as Canon's first camera featuring a stacked back-illuminated sensor (BSI). Manufactured in-house in Canon, this new sensor brings a host of new capabilities not seen in previous iterations of mirrorless cameras from Canon.

The BSI technology allows the sensor to gather light more quickly and efficiently, resulting in improved low-light performance and increased sensor readout speeds. Burst stills of up to 30fps can be achieved, while the ability for the electronic viewfinder (EVF) to refresh at 60/120Hz effectively removes EVF blackouts in electronic shutter mode.
Build and Design
The integration of the grip in the body design of the R3 allows for ease in vertical control and shooting, similar to the EOS-1DX series. Fully weather-sealed, the ergonomic design provides a comfortable handling experience.

Despite this inclusion, the R3 remains extremely lightweight, weighing in at only 822g (body only) or 1015g (body with battery and memory), which is almost half the weight of the EOS-1D X III. This reduces the strain on your arm or wrist during long shoots.
Side by side comparison with the EOS-1D X III
Image from DPReview
New Features in AF Modes
In addition to the eye-detect AF featured in many other cameras, the R3 also includes auto-detection of faces and bodies in frame and can quickly switch between these depending on the movement of the subject.

AF modes dedicated to select animals and motorsports (with focus on full vehicle / helmets on riders) give shooters more versatility in their AF selection methods during various shoots.
Eye Control AF
The re-introduction of Eye Control AF is another key feature distinguishing the R3 from other cameras in the market. After a calibration process, the R3 instantly detects the user's eye position when looking through the EVF, before using this information to set the AF points on the image to the subject the user is looking at in real-time.

This removes the need to manually adjust your AF points, allowing for incredibly rapid setting of focus for targets moving at a high speed, or when there are multiple subjects in frame.
Image from DPReview
The yellow circle marks the Eye Control AF point.
Video Capabilities
While not being able to shoot at 8K like its predecessor the R5, the R3 still clocks out at an impressive 6K/60p with the ability to shoot this in RAW internally. The R3 also shoots 4k at 120p, though it remains to be seen if it will experience the same overheating issues that plagued the R5.
You can visit our website for a full list of the detailed tech specifications here.
Potential drawbacks
The R3 accepts both the LP-E19 and the LP-E4N (the LP-E4 is not compatible!) batteries. However, it is not recommended to use LP-E4N batteries with the new included Canon LC-E19 Battery Charger.
The battery life is also significantly weaker for a professional level camera, with a rating of just 440 shots on full mode (without any battery-saving functions enabled), which might be something to keep in mind.
Comparisons with the Sony Alpha 1 (A1)
As the direct 'equivalent' and much talk about how the Canon R3 fares against the recently released Sony A1, here's some key specs to compare them side by side:
At a glance
Canon R3

Sony A1

Megapixel count
24MP

50MP

Sensor type
Stacked BSI CMOS
Stacked BSI CMOS
Sensor size
Full Frame
Full Frame
IBIS

Up to 8 stops (with select RF lenses)

Up to 5.5 stops
Number of focus points

1053

759
LCD articulation

Fully articulated / Flip out

Tilting
Screen size

3.2"

3"
Screen dots

4,150,000

1,440,000
Viewfinder magnification
0.76x

0.9x

Viewfinder resolution
5,760,000

9,437,184

Maximum shutter speed (electronic)

1/64000 sec

1/32000 sec
Max stills burst fps (continuous drive)
30 fps
30 fps
Notable max video resolutions

RAW 12-bit: up to 6K (60p)


H.265/MP4 10-bit 4:2:2: up to DCI/UHD (4K 120p)
H.264/MP4 8-bit 4:2:0: up to DCI/UHD (4K 120p)
H.265/XAVC HS 10-bit 4:2:0: 8K (30p)
H.265/XAVC HS 10-bit 4:2:2: up to UHD 4k (120p)
Continuous recording limit
Normal movies: 6 hours
High frame rate: 1.5 hours
No limit*
*"possible to record continuously for more than 30 minutes" – via Sony
Media options
CFexpress Type B / UHS-II full SD
CFexpress Type A / UHS-II full SD
HDMI out port type
Type D (micro HDMI)
Type A (full HDMI)
Weight (with media and battery)
1015g

737g

Dimensions
150 x 143 x 87mm
129 x 97 x 81mm
Price (valid 16.09.2021)
NZD $10,999 (body only)
NZD $10,789 (body only)
Closely matched in multiple departments – pick your fighter!
We'd be interested to see which you would go for – let us know what you think in the comments below!
Other accessory updates from Canon
With all the hype over the announcement of the Canon EOS R3, here are some other new releases you might have missed during Canon's Launch Event:
Two new Lenses join the RF lineup
A lightweight and affordable telephoto lens, the new RF 100-400mm f/5.6-8 IS USM includes image stabilisation built within while still maintaining an impressive zoom range ideal for a variety of purposes, especially for sports and wildlife.
Extremely compact and light, the new RF 16mm f/2.8 STM is an ultra-wide angle prime lens with a wide aperture at a great price point. From landscapes and architecture to astrophotography, this is a lens that can do it all. Also useful for content creators and vloggers with limited space, this is an incredibly versatile lens.

This 16mm lens is also the widest prime within the RF range at this stage, though it remains to be seen if Canon will develop more of these ultra-wide primes in the future.
Image from Fstoppers
While these new lenses are generally more catered to amateur shooters due to reduced optical quality compared to their more expensive equivalents like the RF 100-500mm f/4.5-7.1 L IS USM or the RF 15-35mm f/2.8 L IS USM, their much more affordable price point makes them a lot more accessible to new Canon mirrorless shooters.
Further accessories to be used with the R3
The R3 features a new 'multi-function' / 'multi-shoe adapter' hotshoe mount which allows for data and power transmission without the use of wires. With a slightly different design from their previous models, the following accessories are designed to work directly with the Canon R3:
A directional microphone which is powered via the new hotshoe, allowing it to be used without a physical wired connection to the camera.
A transmitter that sits on top of the R3 and allows the camera to trigger Canon flashes or speedlites without the need for a wired connection. Battery free, the transmitter is made to be even lighter due to its ability to draw power from the camera via the new hotshoe.
A shoe adapter which allows for legacy speedlites to be used with the Canon R3. Due to the difference in design of the hotshoe compared to other older Canon models, accessories designed for the older hotshoe must be mounted on this adapter to be used with the new EOS R3.
Check out these new accessories here.
Collaboration with Tascam for XLR adapter (mounts directly on hotshoe)
An exciting development for filmmakers, videographers and audio operators, Tascam is collaborating with Canon to create an XLR adapter to work with the new multi-function hotshoe incorporated in the R3. Known as the CA-XLR2d, this will allow XLR microphones to be used with the R3 with the data transmission handled purely through the hotshoe. The unit can be powered via +48V phantom power through the hotshoe or via AA batteries.
Image from Newsshooter
Equipped with two XLR input terminals together with the ability to support mic and line-level switching, this opens up much more possibilities for audio recording with the R3.
Final notes
We're sure that you're as hyped for the Canon R3 as we are, and we can't wait to get our hands on a unit to play with.
In the near future once we enter COVID-19 Alert Level 2 in Auckland, we will be announcing hands-on experience sessions with the R3 in our stores, so be sure to follow us on our Facebook or Instagram to stay updated!
Our Canon R3 price (RRP, body only) is NZD $10,999 (correct as of 16.09.2021).
Pre-order your Canon R3 from Photogear today and get a complimentary Angelbird 256GB CFexpress Type B Card on us! Make sure to get your pre-orders in quick as well, to be among the first in New Zealand to get your hands on this beauty.
Thanks for reading, and hopefully we'll get to meet you guys soon!
Best,
Zheng Wei